DR site also known as Disaster Recovery Site or Back up site is an alternate facility used by an organization to restore and recover its IT operations when primary data center becomes unavailable due to disasters.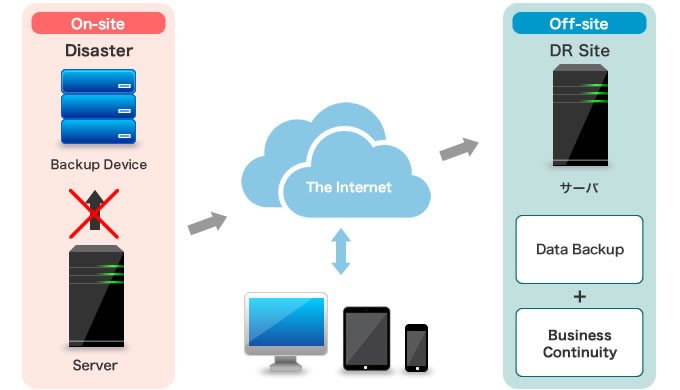 DR site is crucial for business since it will help to run business in adverse scenarios. when choosing a DR site the organization should consider factors like Location,Time, Cost etc. That is DR site should be in such a place that is neither too far nor too near to the primary data center and it is good for the organization to have  plans on how much time they might be spending in the DR site and how much the organization is willing to spend for the DR site.
Internal and External Sites
There are two fundamental DR site options Internal and External. Internal DR site is organized and maintained by the organization with full access to its data while external DR site is maintained and organized by an external provider.External site options are Cold site, Warm site, Hot site and Mirror site.
Cold site is just an available space with cooling and connections that is ready to accept the equipment with recovery time of minimum one month and more.
Warm site will have partially established connectivity and hardware for operations. It is a copromise between the cold site and hot site with recovery time of several days and weeks.
Hot site is a DR site is set up and ready to go with fully functional software and hardware except the data and staffs.  A hot site can often be brought up to full production in no more than a few hours.
How  RTO, RPO decides a DR site?
There should be a balance between the Costs, RTO and RPO to implement the DR plan.The following figure shows the relation between RTO, RPO and costs.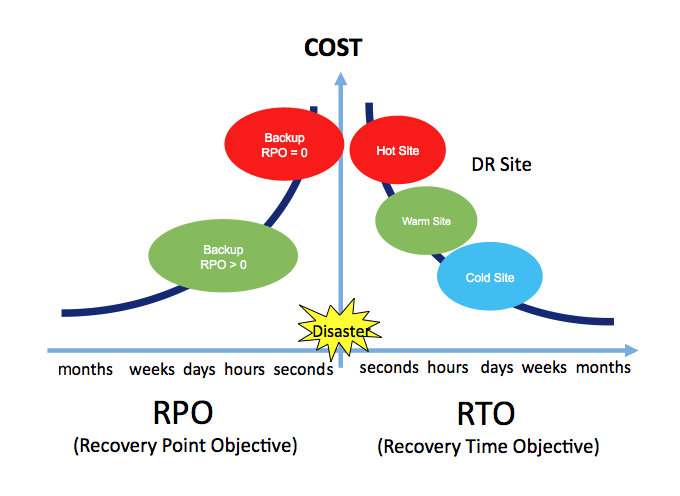 RPO is the maximum data loss and RTO is the period of time following an incident within which the service should be resumed.

The cost of DR increase in proportion to the level of requirements of RTO/RPO. That is if RTO/RPO is more ie. in months, then investment or cost will be less.

Tags: